At 161,000, October Job Gains Steady
In the last major release of economic conditions prior to the presidential election on November 8, the Labor Department reported on Friday that nonfarm payrolls increased by 161,000 positions in October. Hiring has now averaged 181,000 new positions per month over the past 10 months and 176,000 per month over the past 3 months. The year-to-date average was down from average monthly gains of 229,000 in 2015. Nevertheless, since 2010, nearly 15 million jobs have been created. The October gain was less than the consensus projection of 175,000 positions.
The change in total nonfarm payroll employment for August was revised up from 167,000 to 176,000, and the change for September was revised up from 156,000 to 191,000. With these revisions, employment gains in August and September combined were 44,000 more than previously reported.
Employment in healthcare increased by 31,000 positions in October. Over the past 12 months, healthcare has added 415,000 jobs. 
The unemployment rate slipped back 10 basis points to 4.9% from 5.0% in September. The unemployment rate is derived from a separate survey than the payroll employment number cited above. There are now 7.8 million people out of work. The number of long-term unemployed (i.e., those unemployed for more than six months) was unchanged in October at 2.0 million and accounted for roughly 25% of those unemployed. The U-6 unemployment rate, which takes into account discouraged and underemployed workers, slipped back to 9.5%.
Average hourly earnings for all employees on private nonfarm payrolls increased by 10 cents to $25.92 in September. Over the year, average hourly earnings have risen by 2.8%, stronger than inflation and the strongest pace since 2008. Average hourly earnings increased 2.3% in 2015 and 2.1% in 2014. Increases in minimum wage rates in many states may start to put further pressure on this measure of earnings.  
The labor force participation rate, which is a measure of the share of working age people who are employed or looking for work, remained at 62.9% in October, little changed from September. It is low by historic standards.
The October jobs report and the growth in average hourly earnings paint a picture of a strengthening labor market and will add to the conviction of many within the Federal Open Market Committee that they should increase interest rates at their upcoming December meeting. In December 2015, the Fed raised its benchmark interest rate 25 basis points, the first increase since the financial crisis. There has been much discussion of further increases since that time, but there has been no change yet.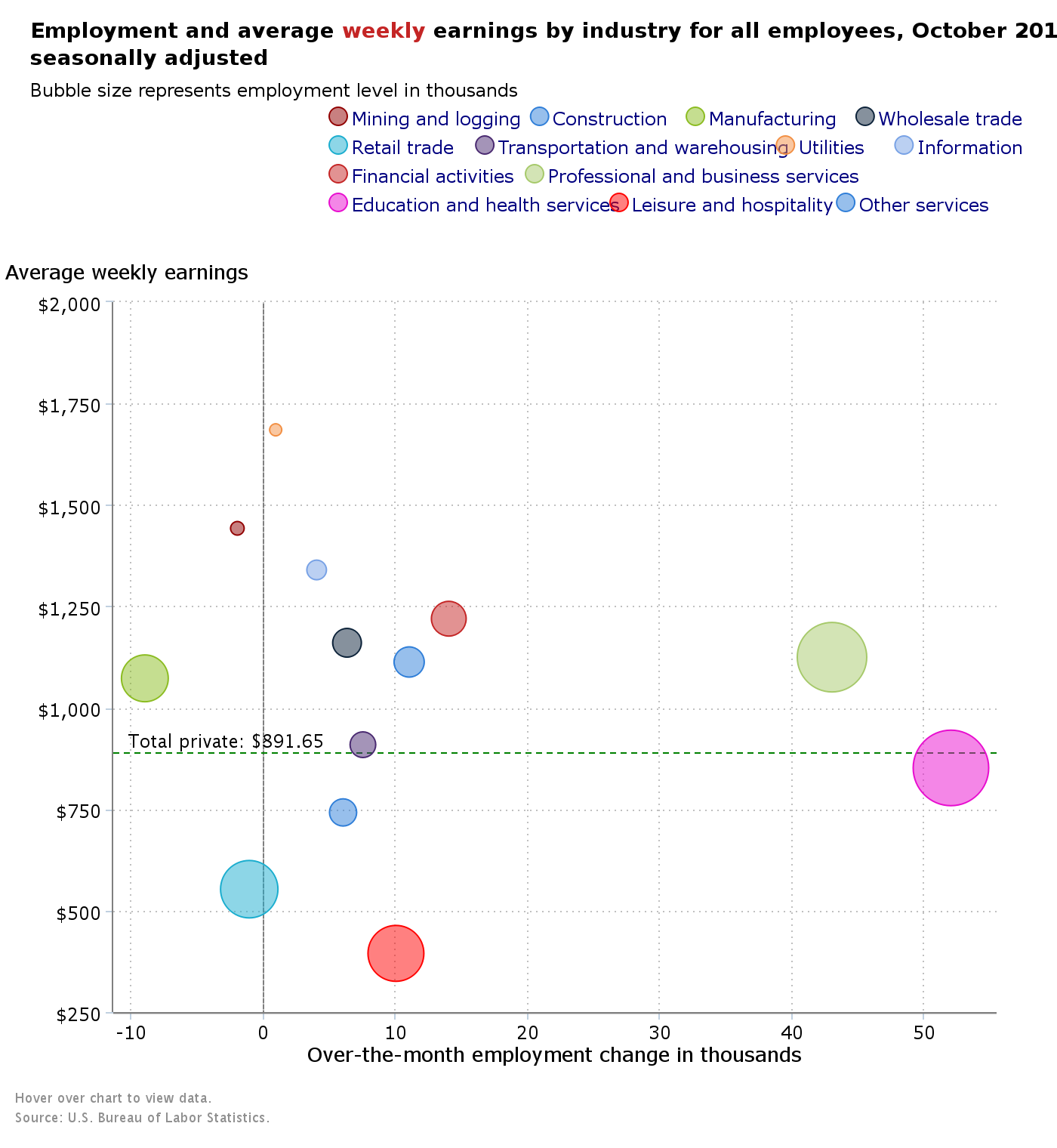 ---