Takeaways from Our 3Q Skilled Nursing Data
Last week, NIC released its fourth Skilled Nursing Data Report, which includes key monthly data points from October 2011 through September 2016. In this week's blog post, we'll highlight the main takeaways from the report.
Decline in Managed Medicare Revenue Per Patient Day Stabilizing?
After years of declining managed Medicare reimbursement rates, the last two calendar quarters show the rate of decline abating. This indicates that revenue per patient day (RPPD) appears to be stabilizing. The quarter-over-quarter rate of decline was 0.3% in the third quarter, which was slightly slower than in the second quarter.
Prior to that, the four quarters that preceded second-quarter 2016 experienced an average quarter-over-quarter growth rate of -1.4%. The year-over-year decline as of September 2015 remains steep at 3.5%, but we saw a slight improvement from the year-over-year change of 3.6% as of September 2014. This yearly trend will begin to flatten if quarterly rate declines continue to slow or stabilize.
Managed Medicare revenue has been a hot topic since penetration began increasing rapidly over the last few years. The increased enrollment in managed Medicare plans has given more pricing power to insurance companies, who have been able to negotiate reimbursement rates with providers. This is one reason why we have seen a 11.6% decrease in RPPD from $498.65 in October 2011 to $440.78 now.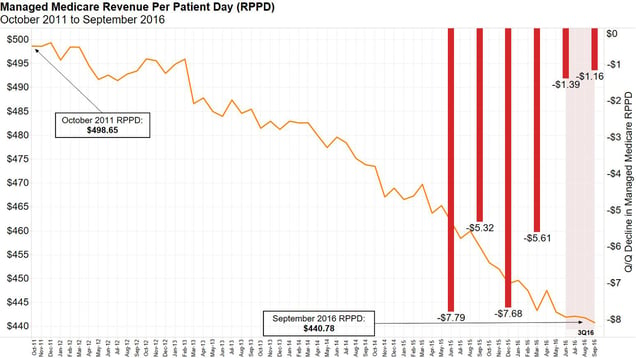 Source: NIC
Occupancy Flat Quarter-Over-Quarter
Occupancy ended at 82.5% in the third quarter (the September monthly rate serves as the third-quarter rate), the same rate as in the second quarter. It did recover slightly from the five-year low occupancy rate of 82.3% in July, but still remains relatively weak. Historically, the month with lowest occupancy is in the third or fourth quarter, and the month with the highest occupancy is in the first quarter, when seasonality factors, such as flu, drive demand. The highlighted bars in the following chart show the typical degree of recovery in occupancy from the lowest month in the quarter to the following month. Historically, this bounce back has been 16 to 19 basis points, higher than the third-quarter 2016 change of 9 basis points. Therefore, occupancy has most likely reached its peak in 2016 unless an early flu season or other factor changes the trend. Year-over-year occupancy dipped 100 basis points from 83.5% in September 2015. The current bounce off the bottom from July will have to be monitored over the coming months to see if occupancy has stabilized.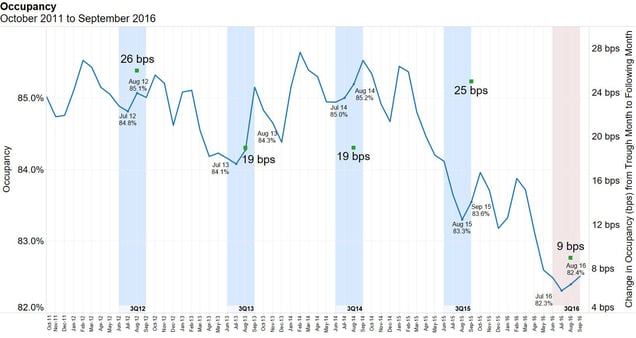 Source: NIC
Skilled Mix Remains a Challenge
Skilled mix continued its downward trend in the third quarter, declining from 24.4% in June of this year to 23.8%. This was driven by the low third-quarter Medicare mix, which was most likely attributable to fewer Medicare patient days. Medicare patient day mix dropped from 13.4% to 12.7% quarter-over-quarter. Since higher reimbursement rates are associated with skilled mix, the downward pressure on that mix can play a significant role in profitability.
As the Medicare mix declines, it increases Medicaid's relevance and significance as a steady payor source. Medicaid patient day mix increased from 66%.0 to 66.5% quarter-over-quarter, with a larger increase year-over-year from 65.0% in September of 2015. Although Medicaid reimburses at a lower rate than Medicare or managed Medicare, it still represents a relatively reliable revenue stream for operators. However, any increases in Medicaid mix most likely will not offset the revenue loss from the declining skilled mix, even with the combination of gradually increasing Medicaid revenue per patient day.
Private-Pay RPPD Growth Rate Increased
Private-pay RPPD grew year-over-year at 2.1%, marking the highest increase since the third and fourth quarters of 2013. In September 2015, the RPPD was $246.14, and it is now $251.32. Private RPPD increases have consistently outperformed inflation since February 2016 and have outperformed or matched inflation since fourth-quarter 2014. The latest quarter-over-quarter increase was 0.10%. Preliminary research indicates that the impact of increases in private-pay RPPD may be more significant for rural markets due to a higher share of private-pay residents as compared to urban properties.
Download the Skilled Nursing Data Report
The complimentary third-quarter 2016 Skilled Nursing Data Report is available for download now:
---