Seniors Housing Posts Strong Property Investment Returns
Investment returns for seniors housing historically have outpaced the overall NCREIF (National Council of Real Estate Investment Fiduciaries) Property Index (NPI), a property-level index that tracks investment return performance for commercial real estate. But while seniors housing returns outperformed the NPI in the third quarter of 2016, the total annual return for this sector has been slowly trending down since mid-2014.
Investment Returns Relatively Strong but Down from 2014 Peak
NCREIF reported that the investment returns for seniors housing properties tracked by the organization in the third-quarter 2016 equaled 2.22% (composed of a 0.80% capital return and a 1.41% income return). Seniors housing's annual return through the third quarter of 2016 was 13.11%. It outperformed both the NPI (9.22%) and apartments (8.46%).
Despite the relatively strong showing, the total annual return for seniors housing has been slowly trending down since the mid-2014 peak of 20.37%. The annual appreciation return was 7.16% in the third quarter, the lowest for any trailing four-quarter period since early 2013. The income return remained near historic lows of 5.66% in the third quarter. The slowdown in annual income and capital returns has also been occurring for the broad NPI.
On a 10-year basis, total returns for seniors housing exceeded both the NPI and apartments by more than 400 basis points. These performance measurements reflect the returns of 78 seniors housing stabilized properties valued at $3.5 billion as of the third quarter 2016.
Property Investment Returns for the Period Ending 3Q 2016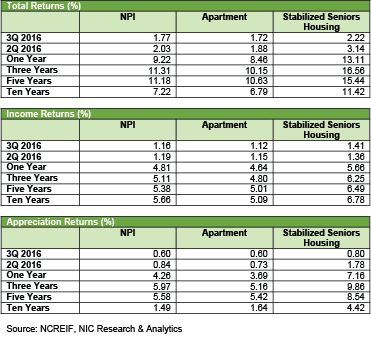 Get the Latest Trends & Data at the Spring Forum
What is the economic outlook for 2017? How will changes in fiscal and monetary policy affect access to capital? What market trends will influence your investment strategies or business plans this year?
Join the 2017 NIC Spring Investment Forum, March 22–24 in San Diego, to get the latest macroeconomic trends and NIC data on the seniors housing and skilled nursing sectors, including occupancy rates, supply and demand conditions, and a comparison of metropolitan market performance across the U.S.
The early bird deadline is January 25.
---