Preparing for Post-Acute Care Transformation
David Gruber, MD, MBA, Director of Research and a Managing Director with Alvarez & Marsal Healthcare Industry Group, recently authored a timely, interesting, and provocative report entitled, "Post-acute Care: Disruptions (and Opportunities) Lurking Beneath the Surface." The report provides a perspective on the rapidly aging U.S. population, the evolution of payment reform, and the implications of these changes on the post-acute care sector. Increasingly, payors, providers, and investors are being affected by the ongoing consolidation of hospitals, health systems, and physician practices, as well as the emergence of advanced payment models that are changing the competitive landscape among all post-acute care providers. The author writes: "With healthcare moving away from facility-centric reimbursement, the post-acute care sector is facing an inflection point that will produce clear 'winners' and 'losers'. Our analysis is intended to help operators take the steps they need to stay competitive and continue serving patients, a necessity as the U.S. population ages and requires healthcare institutions that can meet a complex array of medical, behavioral, functional and social needs."
This topic is ever more relevant to many of NIC's constituents and dovetails nicely with the upcoming 2017 NIC Spring Investment Forum, which will focus on many of these very same topics.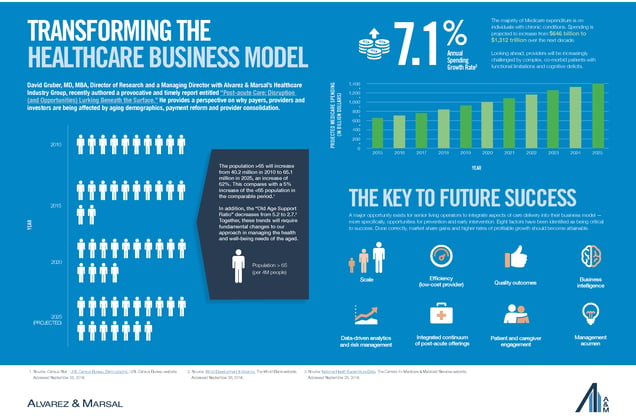 (Click to enlarge)
Report Findings
Among the report's assertions and findings are:
Healthcare Delivery at an Inflection Point. The healthcare system is not yet prepared for the influx of aging Baby Boomers and their medical, behavioral, functional, and social needs. Embedded inefficiencies exist. Traditional facility-centric care ("silos") currently dominate the landscape, but these will disappear as care continuums become the norm.
Opportunities for Seniors Housing Operators. A major opportunity exists for senior living operators to alter their business model and better engage patients, caregivers, and providers in the management of ambulatory care sensitive conditions such as asthma, chronic pain, chronic obstructive pulmonary disease (COPD), diabetes, heart failure, hypertension, and pneumonia. Risk reduction, increasing focus on prevention and earlier intervention, medication compliance, and improved monitoring benefit not only patients and their families, but also providers financially at-risk for resource utilization and clinical outcomes. An improved quality of life ("living well") can lead to higher levels of patient satisfaction, an extended lifespan, and increased brand equity. For operators, this changing landscape provides a significant opportunity for competitive differentiation by expanding preventive care offerings either directly or via partnership with a local provider. Done appropriately, this in turn can lead to higher revenues and profitably.
Rising Costs and a More Complicated Resident and Patient Population. Spending is projected to increase from $646 billion to $1,312 billion over the next decade, an annual growth rate of 7.3%. The majority of spending is on individuals with co-morbidities (in 2013, 71% of Medicare expenditures were for individuals with five or more health conditions). Looking ahead, health care systems and facilities will need to develop systems to work with individuals increasingly challenged by chronic diseases and functional limitations.
Payment Reform. Payment reform from fee-for-service to value-based outcomes will better align providers with the needs of patients. A clear patient preference exists for home-based care, potentially inclusive of independent and assisted living facilities.
Regulatory Reform and "Big Data." The Improving Medicare Post-Acute Care Transformation Act of 2014 (i.e., the IMPACT Act of 2014), the Comprehensive Care Joint Replacement (CJR) model, increasing Medicare Advantage plan penetration, and the growing consolidation of health systems, hospitals, and physician practices have fundamentally restructured post-acute care. The use of a standardized data collection instrument across the entire continuum of post-acute care, a focus on enhanced analytics, and the creation of a unified post-acute care payment system (that establishes payment rates according to characteristics of individuals instead of setting) will become common place.
Success Factors. The report identifies eight factors critical for success for those businesses involved in healthcare within this changing environment:

Scale
Efficiency (low-cost provider)
Quality outcomes
Data-driven analytics and risk management
Business intelligence
Integrated continuum of post-acute offerings
Patient and caregiver engagement (self-management)
Management acumen
Role of Technology. Technology will serve as an important adjunct for the identification of changes in resident status, as well convenient provider access. Smart home technology, also known as the "internet of things," can monitor activity levels and the environment. Passive and active sensors can monitor physiologic parameters, location, and position. Remote monitoring of blood pressure, heart rate, respiratory rate, temperature, and weight is desirable, especially for patients with more than four to five chronic conditions, the threshold for rising Medicare costs. And lastly, telemedicine represents a convenient and cost-effective method to triage patients.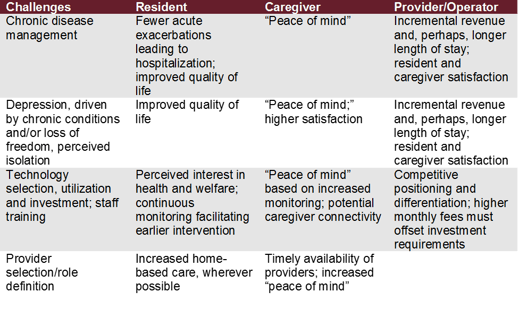 Visit the Alvarez & Marsal website for more information.
Registration Opens Soon
Registration for the 2017 NIC Spring Investment Forum opens in December. Sign up to receive a notification once it opens.
---