Accelerating Inventory Growth Pressures Seniors Housing Occupancy
For the first time during the recovery, seniors housing experienced a sizeable rate of inventory growth, which surpassed absorption and caused occupancy to slip 20 basis points during the quarter. During the second quarter, inventory grew at a 2.7% annual rate, its fastest rate of growth since the second quarter of 2009 when inventory grew at a 3.9% annual rate. In the previous 22 quarters, spanning back to the fourth quarter of 2009, inventory growth never exceeded a 2.0% annual rate.
After recording its weakest reading since the height of the recession during the first quarter of 2015, absorption rebounded to a rate more reminiscent of what we've observed over the past few years. During the second quarter of 2015, absorption came in at an annual rate of 1.9%, up significantly from 0.2% during the first quarter. While it represented acceleration from the first quarter, it still was on the weaker side of where absorption rates have trended since mid-2013.
Occupancy has declined in two consecutive quarters, although the first quarter decline was driven by anemic demand, while the second quarter was driven by supply. Prior to this year, occupancy had enjoyed few setbacks since 2010, with occupancy rising from 86.8% to 90.4%, an increase of 360 basis points. So far in 2015 occupancy has given back 70 basis points of those gains, but still remaining above year ago levels. Given current rates of construction, occupancy may be hard-pressed to rise in the near-term, although there will be more significant supply pressures in assisted living.
Supply Pressuring Assisted Living Occupancy
Assisted living is facing more downward pressure in occupancy rates due to faster rates of inventory growth. Assisted living inventory grew at a 4.6% annual rate during the second quarter, outpacing a generally respectable 3.6% annual rate of absorption. This is one quarter removed from inventory growing at a 2.5% annual rate against a -0.1% annual rate of absorption. The anemic first quarter absorption was acerbated by the strong flu season and cold winter.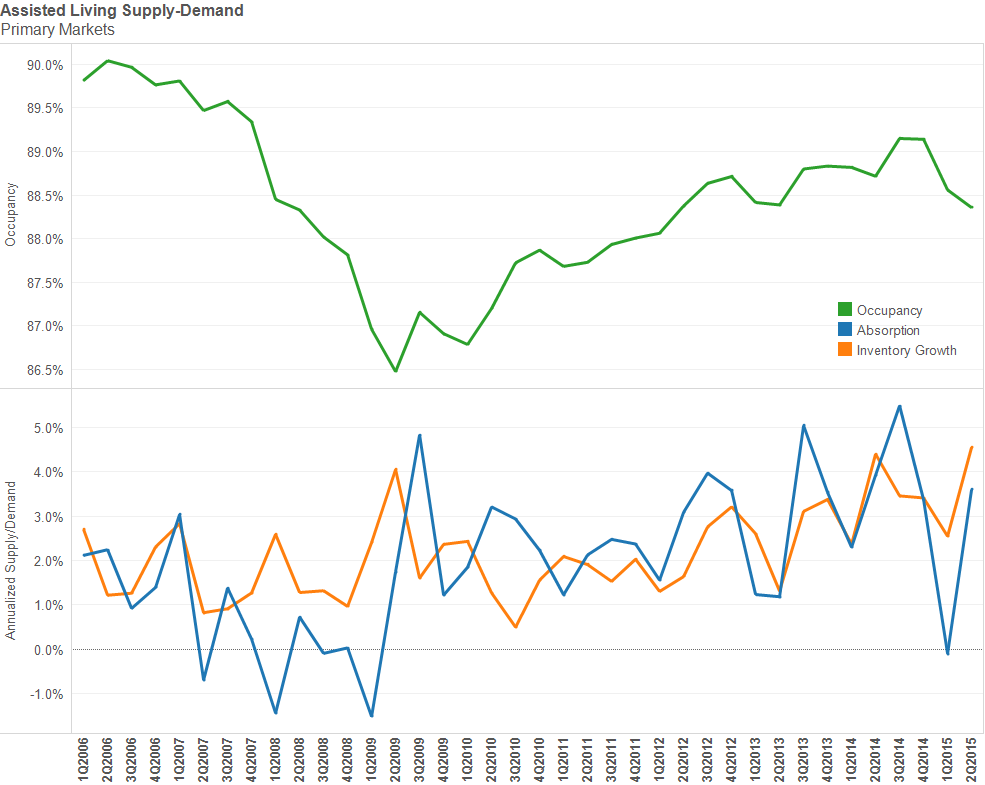 Occupancy hasn't risen since the third quarter of 2014 when it rose 40 basis points and is now running negative on a year-over-year basis. Supply won't offer relief, as inventory growth should continue to run north of 3% on an annual basis for the foreseeable future. Occupancy is likely to see a 30 basis point seasonal bump during the third quarter and remain essentially flat during the next three quarters. We're currently forecasting absorption during the third quarter to run at a 5.2% annual rate, in the middle of the range of recent third quarter absorption patterns. The third quarter has a strong positive seasonal component, with occupancy traditional increasing by about 30 basis points – any increases less than that could indicate softness in the trend for demand.
Minimal Supply Pressures in Independent Living, but Occupancy May Be Peaking
Independent living has fared a bit better so far this year, benefiting from far less pressure from supply. The fastest annual rate of inventory growth independent living has had to overcome since 2012 is only 1.5%, a rate absorption has generally been able to surpass. We say generally, as this wasn't the case during the second quarter. Inventory grew at a 1.5% annual rate, with absorption coming in sizably slower at a 0.7% annual rate.
Independent living was also victim to a soft first quarter, with absorption slumping from a 1.9% annual rate in the fourth quarter to 0.4%, but inventory only grew at a 0.5% rate, allowing occupancy to remain essentially flat despite soft absorption. With only modest rates of construction to contend with, we do expect occupancy to drift up 20 basis points from its current rate of 91.0% during the next four quarters.
Supply Risks Still Somewhat Isolated
While occupancy may be pressured by supply growth in the coming quarters, some areas will be affected more than others. In terms of construction, San Antonio had the highest rate of construction within the primary markets at 17.0% as of the second quarter. It may be challenged to absorb these new units, as demand has been rather anemic since 2012. In fact its occupancy rate is at its lowest level in at least ten years. Other noteworthy markets in terms of construction include Houston, Sacramento, and Atlanta, all of which have construction exceeding 10% of their respective supply.
On the other end of the spectrum, 10 of the 31 primary markets have construction representing less than 2% of their respective supply, with one market, Pittsburgh, having no reported construction as of the second quarter. These markets will face minimal downward pressure on occupancy in the near-term, while other markets, such as San Antonio, will face continued downward pressure due to sizable rates of inventory growth. It further highlights the need to drill down to at least the metro level to get a good handle on development.
---