A Deeper Dive into California's Seniors Housing Market
Of the 99 largest metropolitan markets that the NIC MAP® Data Service (NIC MAP) tracks across the nation, 11 are located in California. Within these metropolitan markets, NIC tracks 870 seniors housing properties with 101,000 units, or nearly 12% of the seniors housing units regularly followed within the 99 markets by NIC. By coincidence, this share is comparable to California's 12% share of the total U.S. population (38.8 million people live in California versus 320 million in the U.S. as of 2015). Within the state, performance measurements vary considerably.
In short, California is a state to watch when it comes to tracking the seniors housing market. Let's take a closer look.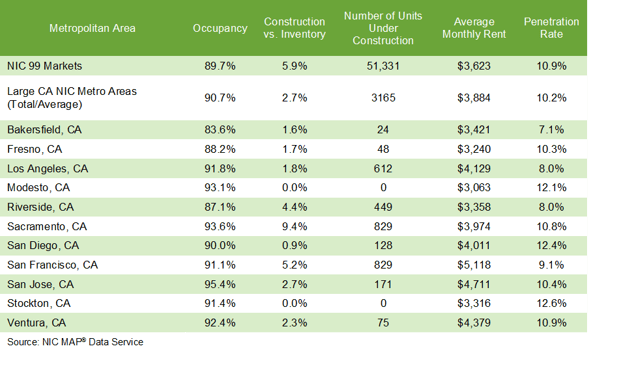 Strong Occupancy, Variations in Penetration
Three of the five best performing markets in the nation for occupancy as of the third quarter of 2016 are in California: San Jose, with an occupancy rate of 95.4%, Sacramento, at 93.6%, and Modesto, at 93.1%. Ventura, Los Angeles, Stockton, San Francisco, and San Diego all had occupancy rates that exceeded the national average of 89.7%. Fresno, Riverside, and Bakersfield lagged behind the national occupancy rate. 
With penetration rates, there's variation among California's largest metropolitan markets. NIC defines the penetration rate as inventory divided by the number of households older than 75 years of age. On average, the penetration rate among California's metropolitan areas is not very different than the nation's: 10.2% versus 10.9%, respectively. 
Within the 11 metropolitan markets, Bakersfield and Los Angeles had penetration rates below 8% in the third quarter of 2016, while Stockton and San Diego exceeded 12%. High or low penetration rates can be viewed as either positive or negative, depending on perspective:
High penetration rate: Seniors housing tends to be a popular and well-understood living option for seniors, suggesting that less marketing is needed to inform the public about seniors housing' benefits. A high penetration rate could mean that the market has a relatively intense competitive landscape, making increases in occupancy more difficult.
Low penetration rate: Seniors housing may be less familiar to the pool of potential residents, indicating that more marketing to educate consumers may be necessary. A low penetration rate could mean that the market has less competition, resulting in easier increases in occupancy.
Considerations in California
When examining occupancy and penetration rates for California, it's important to keep a few things in mind:
In direct competition with seniors housing properties, board and care properties (not tracked by NIC MAP and not included in this analysis) typically provide non-medical custodial care within a single-family private residential home setting and are licensed for six or fewer residents. According to the California Registry, there are more than 8,100 such facilities for the elderly in the state. More than 90% of these properties provide non-medical custodial care within a single-family private residential home setting, licensed for six or fewer residents.
Penetration rates don't necessarily correlate with occupancy rates. For example, Los Angeles has a relatively low penetration rate of 8%, yet a relatively high occupancy rate of 91.8%, while Bakersfield's low penetration rate was associated with a relatively low occupancy rate of 83.6%. Reputation of the incumbent operators in a market and the length of time seniors housing has existed in a market are among the factors that can influence penetration rates.
Penetration rates change over time depending upon the dynamics between construction activity, inventory growth and household growth of seniors. For example, the 11 metropolitan markets currently have a smaller share of construction activity occurring than their share of inventory would suggest.
Difficult zoning regulations and entitlement rules, and the subsequent barriers to entry imposed on new development, means that California's construction activity remains relatively low for many of its metropolitan markets. While this is bad news for those trying to get into the market, it is decidedly good news for incumbents in those markets as well as those developers and operators that currently have projects underway.
Coastal California's higher cost of living and doing business, as well as higher home prices, means asking rents for seniors housing in these markets (Los Angeles, Sacramento, San Diego, San Francisco, San Jose, and Ventura) were 23% higher, on average, than the national average. However, with the exception of Sacramento, the more centrally located metropolitan markets in California (Bakersfield, Fresno, Modesto, Riverside and Stockton) had asking rents that were 10% less than the national average.  
Looking ahead, it is likely that most of California's largest metropolitan markets will hold on to their relatively high seniors housing occupancy rankings. In the next edition of the NIC Insider, we will take a deeper dive into this data and provide more detailed analysis on the individual California metropolitan markets.
On the National Level
For more data from the third quarter of 2016, check out our abridged data presentation:
---