2016 Transactions: Costs of Capital Played a Role, but Deal Flow Still Strong
Over the past few years, public buyers, dominated by the public REITs, have been the dominant player buying seniors housing and care properties. That changed in 2016, when higher costs of capital limited purchases by public REITs. Consequently, acquisitions by institutional buyers and private buyers (including private REITs and partnerships) accounted for the majority of dollar volume in 2016. With public REITs relatively quiet in terms of closed deals, volume dropped significantly compared to 2015. However, smaller dollar transactions kept 2016 active.
Preliminary 2016 Data
Transactions volume for seniors housing and care in 2016 registered $14.1 billion, with $7.8 billion in seniors housing and $6.3 billion in nursing care. The first and fourth quarters (according to preliminary data) were relatively weak for closed transactions. Total annual volume was down 35% from 2015's $21.8 billion and down 26% from 2014, when volume totaled $19 billion.
2016 started out as a tumultuous year in the capital markets. Usually, the first quarter of a year starts off slow given the rush to close deals at the end of the previous year, which effectively empties the pipeline of deals, and then volume picks back up in the second quarter. In 2016, however, the significant increase in cost of capital most likely delayed the finalization of some deals, and we did not see the strong bounce back for deal volume in the second quarter as we had seen the past couple of years. Only $2.6 billion closed in the second quarter of 2016 after a relatively strong first quarter of $4.4 billion.
Although dollar volume dropped significantly, the number of transactions was still relatively strong in 2016: 477 deals closed within this preliminary data set. Transactions were down 15% from 2015, when 563 deals closed—a record high for this database that dates back to 2008. In further comparison, 414 transactions closed in 2013 and 556 in 2014.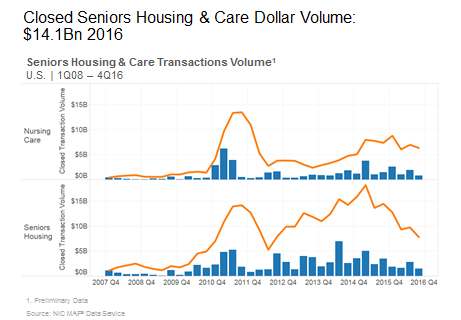 Private Buyer Steady, Public Activity Down in 2016
Over the last few years, the public buyer has been the primary driver of volume in terms of transaction dollars. But in 2016, public buyer volume was down 71% compared to 2015, dropping from $12.7 billion to $3.7 billion. The public buyer represented only 26% of total buyer volume in 2016, compared to 58% in 2015. There are many reasons for the decrease in public buyer activity, including the increasing costs of capital, as stated earlier, and the move by some public REITs to become net sellers. Other buyer types stayed consistent in terms of dollar volume in 2016: the private buyers and the institutional buyers.
Costs of Capital Higher for Public REITs
As we highlighted above, one of the main reasosn for the decrease in public buyer volume is the changing cost of the capital landscape. The following Green Street Advisors graph shows the premium at which public REIT stocks were trading relative to their gross asset value, which is based on the private market capitalization rates and the REITs' portfolio holdings. When REITs trade at a premium to asset value, they can buy properties by raising equity and debt and will get an instant increase in value because the private market value is lower than their publicly traded equity value. In other words, their costs of capital are low when the premiums are high, and they can make an arbitrage play when these stocks are trading at high premiums.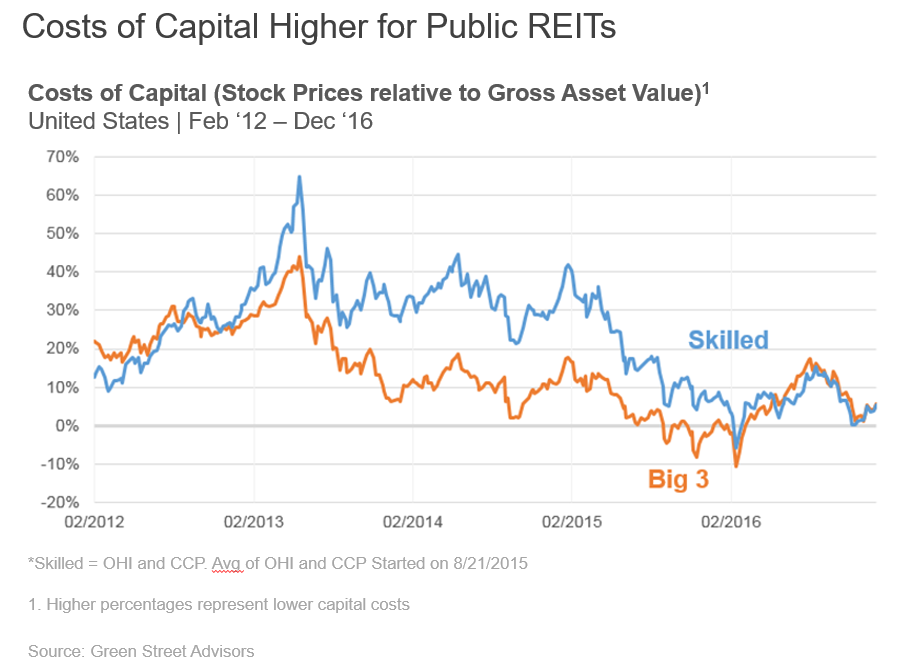 Starting in 2013, the premiums started to trend down, which in turn effectively raised the REITs' costs of capital, making it harder to pay up for properties. The premiums fell again in 2015, which was reflected in transactions volume as activity by public REITs started to decrease dramatically after the second quarter of 2015 and continuing through 2016. The premiums dropped to start 2016 but bounced back rather quickly; however, the premiums were certainly not anywhere close to where they had been in 2013 and 2014.
What does 2017 have likely in store for transactions? It's possible that we could see public REITs' deals pick up if interest rates and costs of capital stabilize. We will have to see how everything plays out over the course of this year.
Seniors Housing and Skilled Nursing Market Trends at the 2017 Forum
What is the economic outlook for 2017? How will changes in fiscal and monetary policy affect access to capital? What market trends will influence your investment strategies or business plans this year?
Join the 2017 NIC Spring Investment Forum, March 22–24 in San Diego, to get the latest macroeconomic trends and NIC data on the seniors housing and skilled nursing sectors, including occupancy rates, supply and demand conditions, and a comparison of metropolitan market performance across the U.S.
The early bird deadline is January 25, so register today:
---